Most of my day has been spent brainstorming on paper about a new story I'm trying to breathe life into. I saw my protagonist months ago. No lie, it was like I could see her with my own eyes, staring back at me. She wears a lot of denim, has thick handfuls of dark hair, and her laugh often carries over the crowd of the bar where she serves drink after drink to people who sometimes come in at the end of a long day just to see her smile. I love her already.
Then it stopped, all the turning in my brain. The wheel screeched to a grinding halt and I've been staring at a blinking cursor ever since. Sure I wrote some random things here and there, a lot of which I think I'll wind up erasing completely.
While writing down thoughts into my new lipstick red journal I scribbled,
Then I underlined it. Twice. Then took another sip of beer and thought about shutting my laptop and walking away.
The realization that this specific plot point I was scrapping would make me almost despise my character if I were just a reader was a humbling moment. The other story, (not this one that's been driving me insane) that I think I've finally finished after multiple drafts, was one of the easiest things I've ever done. Don't get me wrong, the emotional shit I went through while writing it was nearly devastating, but I wrote largely from personal experience. It was a story that I wished could've happened to me, and I had so many real life moments I simply turned into a work of fiction.
And now here I am, trying to figure out this character's conflict. Is it internal or external? Emotional or intellectual? What the fuck does she even want from life?
Honestly, I have no idea. Will it come to me in the middle of the night when I wake up for the third time to pee? Maybe it'll happen while I'm driving down the road trying to tune out the sound of the kids fighting from the back seat. Could it be a slow burn where the ideas come in bits and pieces that I have to put together like a insane puzzle? Then of course there's the likelihood that it may never come at all.
Maybe my entire writing existence will be wrapped up in this one novel that may never travel anywhere, but bounce around from friend to friend, most of whom won't have the time to open it and read because life is insane and everyone has their own shit to deal with.
Either way, this'll be me sitting at the kitchen table until the end of time.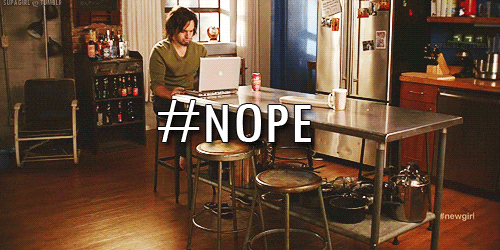 That's what happens when you are no longer employed and say, "Finally, I can write as my job!".
It was a trap. I trapped myself. Please send carbs.